Our Basic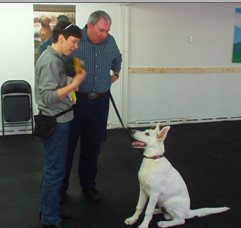 Manners class teaches basic skills and how to apply them to living with your dog.  
The first session is a private session in our training room followed by 4 consecutive weeks in a group class. In the first private session we cover the foundation behaviors that we build on during each subsequent week. The private session builds your skills and your dog gets a chance to train in the room without distractions.  The next 4 weeks focus on building on these skills with more distractions. We cover such topics as stay, come, walking nicely on leash and more….
Also discussed are common behavior problems such as jumping, chewing on inappropriate objects, stealing objects, and other topics of interest to the class.
The cost for Basic Manners is $220.
Classes are held for one hour each week.  Just call to schedule your private session. Classes are offered weekday mornings, evenings and weekends.
Don't wait, sign-up now. Call us, send us an email or fill out the Contact Us form on this website.
BEST OF BASIC PACKAGE – Dogs more than 4 1/2 months old 
By combining an additional private session in your home with our 5 week group class (week 1 is a private session in the training room), you will be getting the best of both approaches at a discount. In the home private session, we work on training in the real world, your home, your neighborhood and more. We will help you create a good management and training plan to decrease the unwanted behaviors. We also show you how to apply the exercises you have learned in class to the problems you are having in the home.
2 Private Sessions- 1 in center and 1 at home plus 4 weeks of class – $310
3 Private Sessions- 1 in center and 2 at home plus 4 weeks of class – $390
4 Private Sessions- 1 in center and 3 at home plus 4 weeks of class – $460
All sessions must be completed within 4 months from the first session.