Guy Margolin & Adina/Rottweiler
I just want to take a moment to thank the Canine Coaching team for the changes they made in me and my Dog, Adina.
When I called Canine Coaching, I was very frustrated because Adina and I were not having fun on our walks. She is a very high drive and very smart Rottweiller. Even though she is finished as a national champion in conformation, her behavior was out of control when she was on leash walking through the neighborhood. She would go "crazy" when she would see another dog, spinning in circles, growing, barking and lunging. The choke collar and pinch collar only escalated that behavior. Another school, told me to "put her on her back and shake her". It was a good thing I knew my dog well enough to know, that would have been a tragic mistake with devastating consequences. After talking to Pat from Canine Coaching, she recommended that we attend the reactive dog class. Being very skeptical, I went to the first day of class. I was immediately impressed by Dottie's philosophy and the control that she had over each dog. It was apparent that safety was her primary concern. After completing the class our walks are now very enjoyable for both me and Adina. We traded our choke and pinch collar in for a clicker and treats. Adina and I are now participating in the Great Outdoors class where we walk in the middle of the group with no Crazy behavior, truly amazing.
I want to thank Dottie, Pat and Joanne for all their help and sincere dedication. Thank you also for your patience in teaching me the techniques of training with positive reinforcement.
---
---
Carol Rost & Theo/Border Terrier
Dottie Zaris was referred to me by our veterinarian Dr. Howard Gittelman. My experiences with her were for Theo,my first "terrorist" terrier. We started w/private lessons and she was enthusiastic, funny, supportive and gave me invaluable techniques and advice for problems like puppy nipping, walking on leash, and general misbehavior. We've continued w/a number of group classes with (Puppy K, Basic Obedience, Advanced Obedience and Great Outdoors) which are always informative, helpful, and FUN! Whether alone or in a group, both Dottie and Pat are professional, highly qualified and knowledgable and approach their training in a sensitive, ethical, results- oriented, and fun manner. And always address problems/ challenges with the owner's and dog's best interests in mind.I hope to continue a relationship with them over my dog's life.
---
Jackie White & Apricot/American Mastiff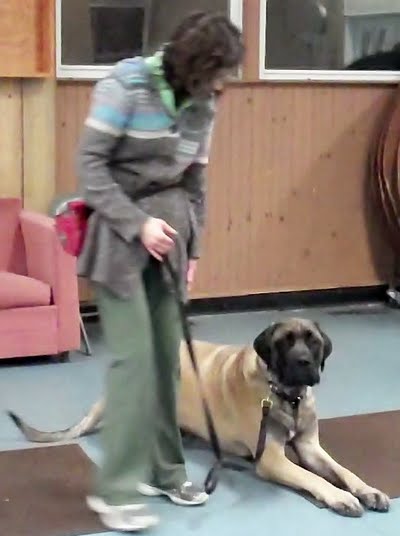 When we first brought Apricot into our family she was 8 weeks old and a mere 20 pounds. Knowing what she would soon become, I immediately scheduled private lessons at our home with Dotty. From the very beginning everyone got involved in the training, me, my husband and our three kids. For the past fifteen months Apricot has constantly been enrolled in Canine Coaching classes, Puppy Kindergarten, Basic, Intermediate and Advanced obedience training and now in the 'real life' class, the Great Outdoors. Dotty and Pat have always been caring, kind and professional. They are even available by phone; I have spoken to them more than once from vacations when unexpected dog issues have arisen. Dotty and Pat have helped us with far more than the typical sit, down, come, stay. They view the world through a dog's eyes. Whether it is explaining why she occasionally panicked while walking (sensitivity to trucks and motorcycles), nipped at her sister's feet (fuzzy slippers look like chew toys), refused to walk steps (fear of falling), they have given us the skills to help her become a balanced, happy dog. Today, at 130 pounds and growing, Apricot is a well behaved, loving, kind, caring member of our family. They helped us navigate through the challenges of puppyhood with flying colors. We can't wait to continue into the future!
---
Pam Sprosty, LVT & Dasher/Schnauzer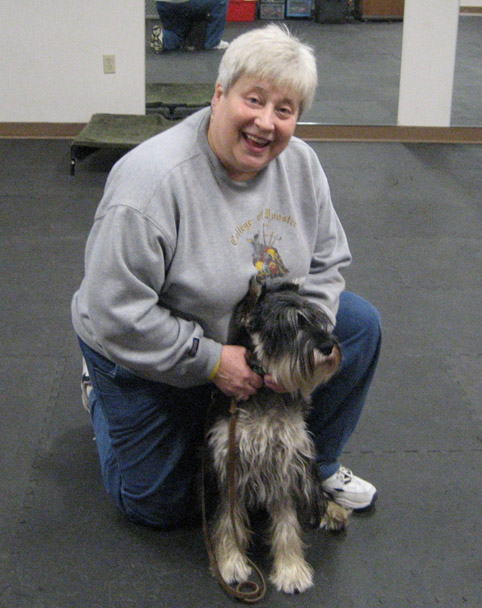 I've had dogs my whole life-this is my second dog experience at Canine Coaching. I've taken classes elsewhere, but will never go anywhere else again because this is the best positive reinforcement type of training and the absolute best way to bond with my best friend, my dog.
---
Dick and Kathleen Lewis & Blaze/Lab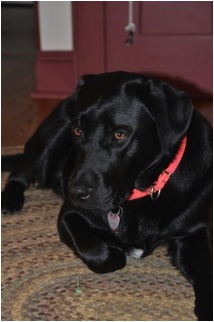 Blaze came into our lives in May 2012, weighing only 12.5 pounds. He was named for the white blaze on his chest.
Little did we know of the true relation our puppy had to his name. In a very short time we realized that our bundle of black fur was in need of some heavy duty training. Life with him was spinning out of control. At the suggestion of The Valley Cottage Animal Hospital, we contacted Canine Coaching and soon enrolled in the "Beginner" class directed by Joanne Langman.
Although the classes were fun, easy to follow and practice at home, as we approached the end of the course, it was evident that we still needed to fine tune some behaviors. Joanne agreed saying, "Blaze is a lot of dog". So at that time we decided to continue Blaze's training in the home, under the direction of Dottie Zaris. Each week Dottie would first listen to our frustrations, address the problem behaviors, and then positively coach us on specific training techniques. With Dottieís patient direction and support Blazeís training began to take hold and most of our frustrations were eased.
Excited with our success, we then enrolled in a "Beyond Basic" class and then continued with the "Great Outdoors" to expand socialization skills and have fun with our dog.We are so grateful to Joanne and Dottie for helping us mold Blaze into a well behaved, enjoyable and much loved companion.
---
Kim Traugott, DVM & Tucker/Lab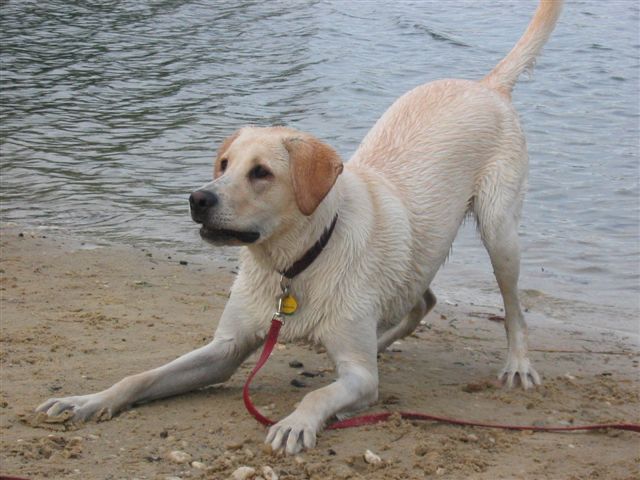 I can't thank you enough for your help with training Tucker. As a veterinarian with a special interest in behavior, I am impressed with your techniques and expecially your ability to truly understand what dogs are thinking! Please don't hesitate to use me as a reference as I will continue to wholeheartedly recommend Canine Coaching!
---
Gerry Kaufman & Lucky/Lab

I got Lucky as a four-year-old rescue special needs Lab. After a short honeymoon period, Lucky started to exhibit some aggressive behaviors. I could barely control her.
It was difficult for me to walk her. She was aggressive when we encountered other dogs. And she would lunge and snarl at people we met while out. She jumped on visitors and attempted to attack anyone who came to the house. I was afraid she would have to be put down as an aggressive uncontrollable dog.
I was fortunate to have contacted Dorothy Zaris who immediately gave me some tips and methods which helped tremendously. Lucky and I attended "Beyond Basic" classes with Dotty and Pat. Lucky began to improve very quickly. She learned to respond to commands and is developing self control around other dogs.
We continue to attend classes, now going to "The Great Outdoors" class. Lucky is making fabulous progress. She walks calmly on her leash (most of the time) and obeys commands like "heel" and "with me." She is much more comfortable around other people and other dogs, and after a few minutes of exuberance, will even become calm with visitors to the house.
Lucky and I owe a great deal to Canine Coaching. They helped us to work
out so many of our problems. Lucky has become a wonderful dog and we look forward to enjoying our lives together.
---
Maureen Henry & Charlie/Labradoodle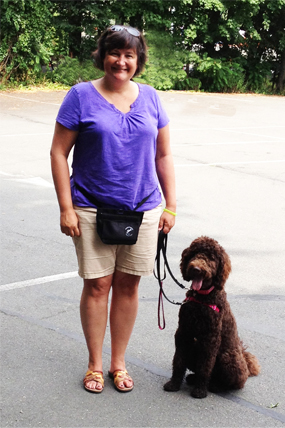 Just an update on Charlie's progress. We had a party today with 30 people including children and babies. Charlie did not jump on a single person. She sniffed them for the first few minutes of the party then did her own thing. She patiently gave her paw dozens of times without complaint. She did not touch the shrimp and beef appetizers that were on a low coffee table. All of our hard work has paid off. People couldn't believe she is just a puppy!