*Offered to puppies 8 weeks to 4 1/2 months, no prerequisite training required.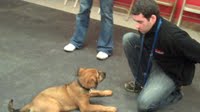 Come to a trial week of puppy class.
If you decide to enroll, you continue for an additional 5 consecutive weeks of class. At the end of the 6 weeks you are eligible to test for the AKC S.T.A.R. award.
Learn how to raise a happy, well-behaved puppy. The first few months of a puppy's life are considered its sensitive period. It is during this time that a puppy must be properly socialized and exposed to new people, places, children, other pets, sights and sounds. These group sessions in our facility emphasize the prevention of common behavior problems, establishing a strong bond between owners and their puppies, encouraging good temperament, and teaching basic household manners. This program also covers basic obedience cues such as Sit, Down, Come, Drop It and others.
Classes are held weekly. Just select the day of the week you want to come and call the office for a start date:
Tuesdays from 6:15 – 7:30 PM in Chestnut Ridge.
Saturdays from 9:30 – 10:30 AM in Chestnut Ridge.
Vaccination requirements for participation in class: 2 sets of puppy inoculations
The cost of Puppy Kindergarten, 1 Trial week plus 5 week class is $165
PREMIER PUPPY PACKAGE – Puppies up to 4½ months old – $310 (savings of $35)
This discounted package is a combination of 2 private sessions and puppy class. It is our most successful training option. The private sessions will help you and your family: set up a plan to prevent problem behaviors; learn in a non-distracting environment; house train your puppy; and build foundation skill for you, your family and your pup. In the puppy class, you will learn: to read your puppy's body language; how to socialize your puppy; and build your training skills in a more distracted environment. Do not forget, sign up for the free trial session in puppy class that we offer to new puppy owners.
Also see Private Sessions.

Note: A clicker may be used if preferred by the client.