BEYOND BASIC CLASS
*Prerequisite: Basic Manners.
For the dog who is already proficient in basic skills, this program focuses on fine tuning and making your dog more reliable at a distance and with distractions. These include: further improving leash walking skills; proofing stay and wait in much more distracting environments; coming when called with other dogs moving around; greeting people or a dog and not jumping up.
Upon graduation, your dog can be tested for the AKC Canine Good Citizen Award.
The cost for this 4 week class is $135.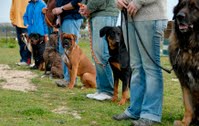 Also see Private Sessions and Discounted Packages.
Note: A clicker may be used if preferred by the client.