* Dog must be 1 year old by the end of the program.
Clinical studies have proven that animals have the power to help people heal.  Simply petting, touching or talking to animals can improve physical health and emotional well-being.  You and your dog can have a dramatic impact on the lives of people in any health care setting, such as: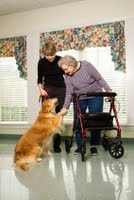 Hospitals and psychiatric centers

Military Installations
This program will prepare you and your dog for therapy dog work.  Your dog will learn the skills required for visiting and you will develop your handling skills and learn what you need to do with your dog when visiting.
The class ends with the opportunity to take the AKC Canine Good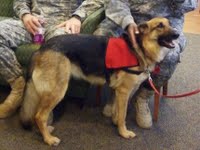 Citizen Test and the Alliance of Therapy Dogs handling test.  Once your team (you and your dog) pass the test, three observation visits to a public institution are required before you can register as a therapy dog team and begin to visit local institutions.
This program is helpful even if you don't want to get your dog registered as a therapy dog. The class will help your dog develop into a well-behaved dog when visiting with people in any environment.
The program begins with a one-session workshop to educate you on what it takes to get your dog certified, what it is like to do the work and assess whether you and your dog are ready to take the class.  If you are ready, you can continue for the next five weeks of class.
Workshop cost is $25.  The cost for the remaining weeks of class is $200.
Check out the Hudson Valley Paws for a Cause Program on Facebook!
For more information about therapy dog certification go to: www.therapydogs.com
Also see Private Sessions and Discounted Packages.
Save
Save