Lucky Lady's Story
as told by Dottie Zaris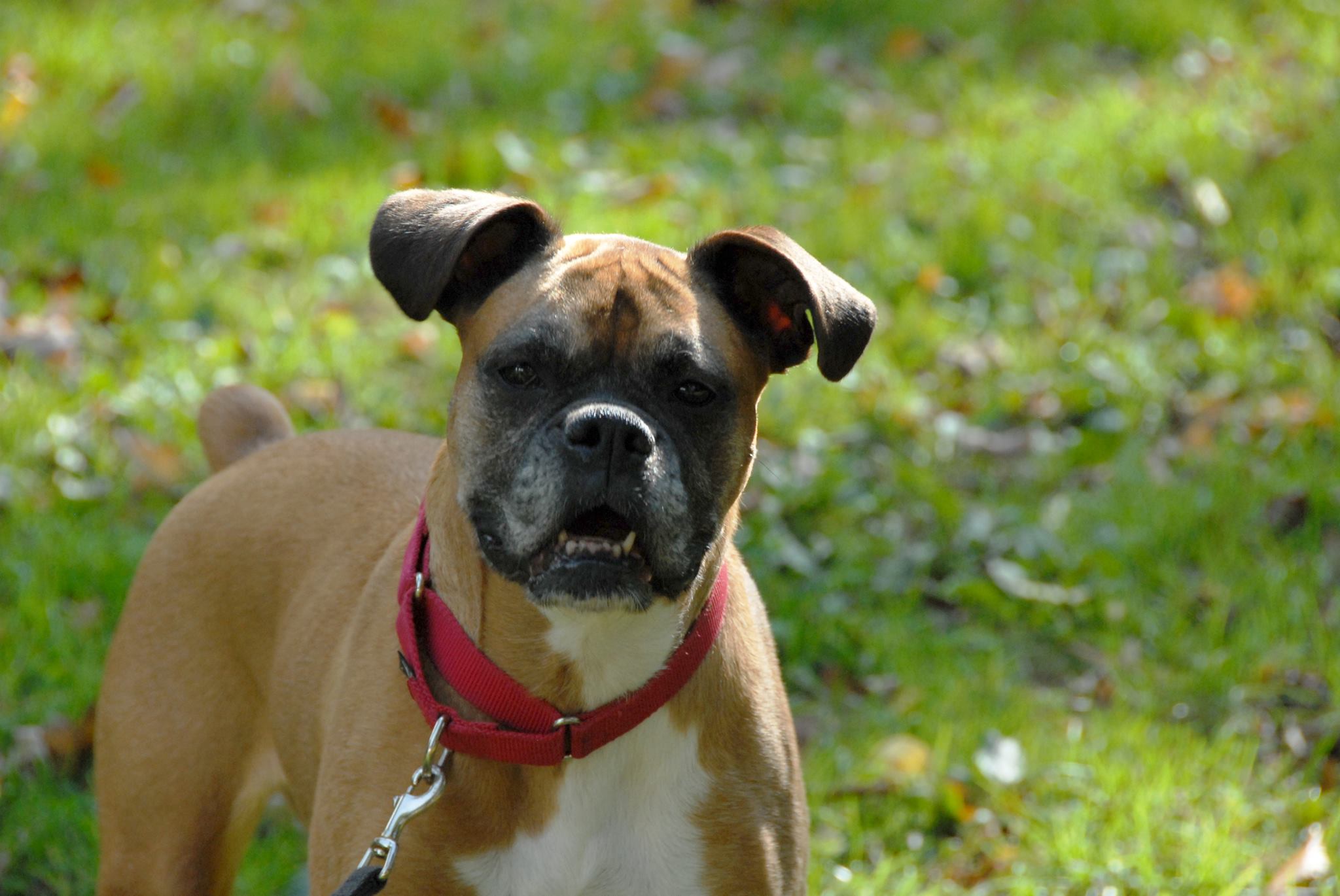 Several people have asked about how Lucky Lady is doing. So, we thought we would post her story as an update for those who know her and those who don't. So, here is Lucky Lady's story……
Lucky Lady is doing great. She is truly a "lucky lady". She was supposed to be a short term foster and then be adopted out after she recovered from her surgery. However, things did not work out as planned for several reasons. I would like to share her story with everyone who does not know our Lucky Lady.
Lucky was found abandoned on Route 45 and turned into HiTor. She had a very large mammary gland tumor (weighing about 2 pounds) hanging from her body. They estimated her to be about 8 years old. She was very frail, and weighed in at only 40 pounds, which is extremely thin for a female boxer.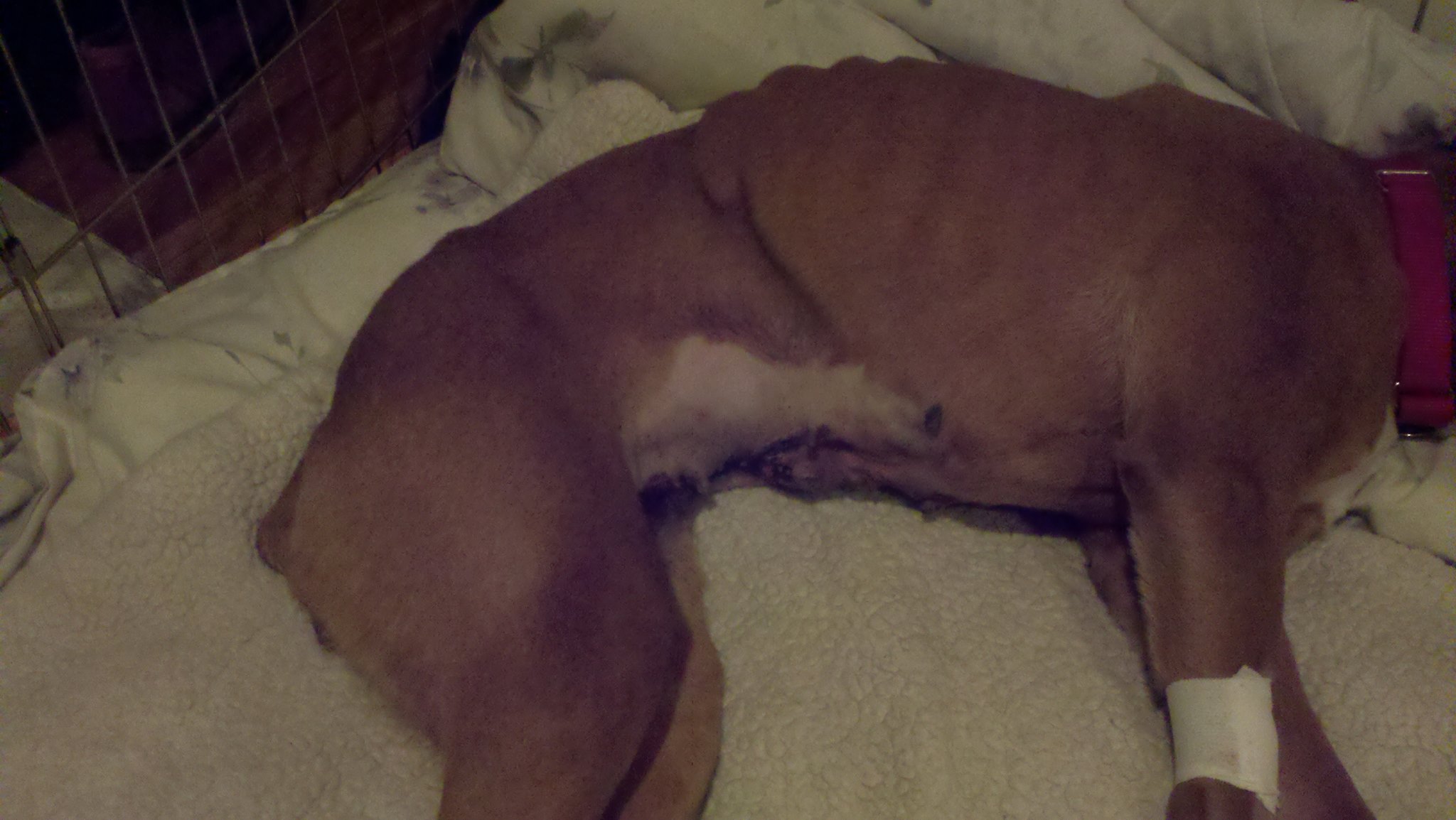 It didn't take long for Hi-Tor to realize that she was the sweetest dog. So, despite her age and the expense of the surgery, they decided to remove the tumor and spay her. Similarly, after meeting her, I offered to take her home and keep her through her surgery and recovery. I reached out to some of my friends and clients and received donations that covered the financial part of Lady's surgery. Doctor Christopher Puzio performed the surgery. Yes, Lady was truly lucky.
After her surgery, I picked her up and brought her home. She was the best patient and allowed me to do anything that
needed to be done to her. She would just smile and look at me with her sweet loving look every time I sat down to dress her incisions. And, she would lick my face. What a dog!! Her surgery was quite intensive, and her recovery took longer than expected. Also, the biopsy results showed that the tumor was cancerous. Despite these obstacles, her luck continued.
As she recovered, people started to visit and inquire about adopting her. Everyone who met her fell in love. She was a dog full of and surrounded by love. I interviewed everyone carefully and was honest about her cancer and the fact that it would probably return. She needed her new owners to understand and recognize the fact that, although the cancer was removed, Lady may not be cured and there could be more to come.
Unfortunately, everyone who came to meet her had other dogs or cats. You see, as wonderful as Lucky Lady was with people, she was not very dog social and was very aroused around cats. The combination of the cancer and the fact that she was more of a people-dog (and less of an animal-dog), lead to all the potential adopters regretfully deciding not to take her home. I decided that Lady would live with me until I found the "right" person. Little did I know, Lady's luck was too big for just one "right" person or home.
One day in September, two-and-a-half years ago, an elderly woman named Eleanor called and told me that she saw Lady's picture in the paper and wanted to meet her. Eleanor had always had Boxers and thought she might be interested in giving Lady a home. There was one problem, Eleanor had a cat and was afraid to take chances.
So, we made a deal that still stands today. Every day I drive Lucky Lady to Eleanor's house at 12:30 and pick her up at 4:30. Lady gets to sit in the garden with Eleanor on the warm days. When the weather isn't quite right, Lady sits by Eleanor's feet and gets massaged behind the ears in the sitting room or gets to lie in the sun in the sun porch. They go for daily walks down to the mailbox and Lady's favorite thing is when Eleanor's family visits. She loves company. What could be better?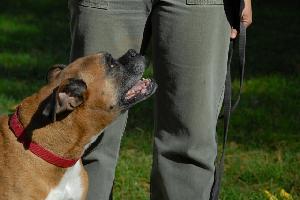 What Lucky Ladies we all are! Eleanor loves the companionship and is helping bring pleasure to an old dog who is still quite young at heart. Lady gets love and special attention every day. And me? Well, all I can say is what a Lucky Lady am I to be able to bring these two together and be a part of their story.
Although Lady's cancer continues to recur, Doctor Puzio removes the tumors when they are very small and she continues to live a happy, full life. She truly is a Lucky Lady!!!